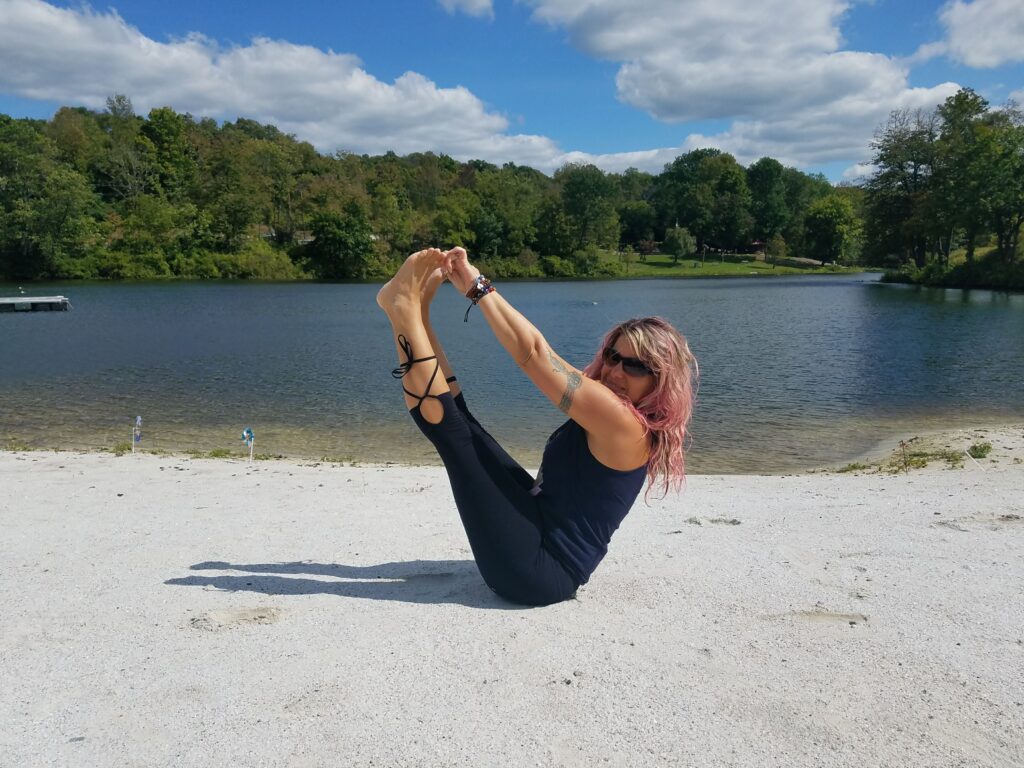 Hello! Welcome and Namaste!
I'm Kerri, co-owner of K&P Holistic.
I am so happy and grateful you are here!
My story begins in the early 1990s, when I was first introduced to yoga. My mother and I did various workouts at home. She had one she didn't use very often so she gave it to me. It wasn't even a DVD yet, but a VHS tape! It was titled Power Yoga with Rodney Yee. I LOVED IT! Growing up I had been a cheerleader and took gymnastics so I had always been pretty flexible, but I wanted to keep the flexibility of my youth and I knew Yoga was a way to achieve that. This tape became part of my workout collection that I would do maybe once a week or so.

Around this same time, I was working as a hairstylist and esthetician in a local salon. Exchanging services with the massage therapist that worked across the hall from me, my dream of a wellness center started to come together. I envisioned a wellness center that offered not only spa services such as facials and massage, but also yoga, fitness, nutrition advice and as many forms of holistic healing I could find. Holistic healing was always a great passion of mine.

Shortly after my dream started to come into my mind I became highly allergic to the chemicals in the salon and realized I could not continue this line of work. Hairstyling was out for me, and as much as I loved doing facials, it wasn't enough money to be a full time job. Reluctantly, I took a job in an office and went back to college to study accounting, which I had been good at in high school. Then life happened. I got married, had kids, moved to a different county, bought a house, got divorced, etc., etc., etc., …

I never forgot my dream though. I kept dreaming, knowing one day I would bring my dream to reality. In 2006, I brought my first part of the dream to the table. I began my first Reiki training. I loved it so much I continued on to become a Reiki Master teacher and hypnotist in 2008.

It wasn't until I took a 21 day yoga challenge in 2011 that my life changed and my dream really started to come together. The 21 day yoga challenge made something click in my brain…I realized this was an everyday kind of thing, a lifestyle, not just a once in a while workout. I had already been practicing meditation everyday so it just made sense to add asana everyday as well.

I began looking for nutrition courses and found IIN-the Institute for Integrative Nutrition. My husband, Pete, (who was my boyfriend at the time) decided he would take the course with me. The goal of IIN is to create your own business by the end of the course. Since Pete and I took the course together, we decided to create our business together. We became certified as Holistic Health Coaches and K&P Holistic Health & Fitness was born!

While at school in IIN, I was so inspired and had so many ideas for our business. I wanted to create a walking group but I didn't want anyone telling me I did not have the qualifications to get people moving, so I enrolled in a personal training course while I was a student at IIN. The personal training course offered additional courses, like yoga. So I took the yoga course they offered, which was online. I had originally taken this course with the intention of just helping out my private health coaching clients. I then received an offer to teach group yoga classes at a martial arts studio. Excited with the offer to teach group classes, I enrolled in a 200 hour yoga teacher training with Chakra Flow Yoga School in Wayne. Yoga has been a part of my every day life ever since.

In 2017 we walked into what would soon become our yoga studio/spa. As soon as I walked into the space, my dream came alive…and here we are! Sometimes when you get on your path the universe takes you for a ride and things just happen…it just flows.

I am a life long learner…always learning new things…new healing modalities and continuing my yoga studies.
Our goal is to bring you as many holistic, integrative, and alternative modalties as possible; helping our community heal naturally, one being at a time. Our hope is that the ripple effect will become global.
Want to join our team?
Email me at [email protected]
Namaste
Aum~Shanti~Om~Peace